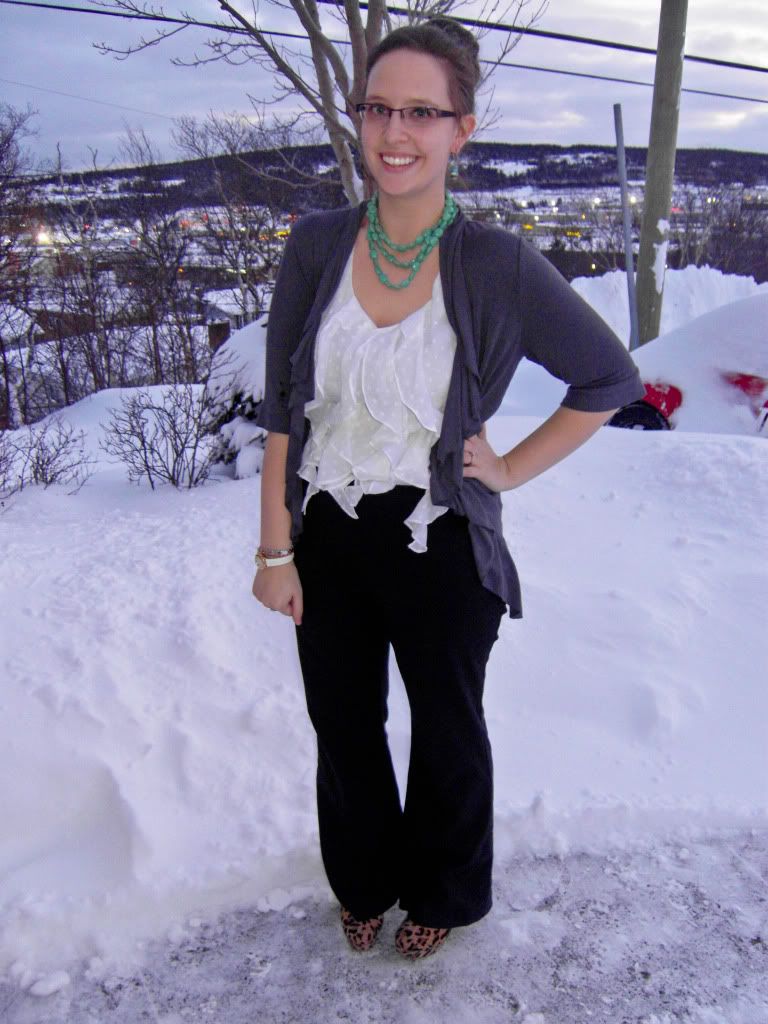 {Outfit Details}
Cardi - Smart Set
Ruffle Shirt - (Gift)
Pants - (Gift)
Shoes - Go Jane
Necklace - Forever 21
Earrings - Suzy Shier
Watch & Bracelets - (Gifts)
Today was my first day working a Thursday at pharm. and I love it. At first I thought two days was going to be crazy, but I was wrong.

I feel important in my job for the first time. I actually have deadlines, and things to do and type up.
Not simply serving coffee and mopping the floors at Tim Hortons.. don't get me wrong, if you work at Tim Hortons and love it then more power to ya--- and I'm sure you make a big difference, but I personally didn't feel like that.

It's nice to wear dress pants sometimes.. if they fit you. Y'all know I have bad luck getting the crotch area to work out. They are a bit bell-bottomish but I like them.
Anything that stretches with me during the day is a total plus (elastic waist ;)

Finally, this is going to be the last post with this blog name.
I'm so excited to start under my new name and share a lot more of myself and my life with all of you.

I'll be keeping this blog live until Saturday night so whoever reads can catch up or see that I'm moving. I'm going to start making the changes to the layout and whatnot over that night and Sunday.

I figured that with all the snow storms (even more this weekend coming) and my mama in town, I'll take advantage of the weekend break and start a new Monday.
I'm hoping Monday's post shows you a side of me and my writing that you've never seen before.

I know I have so much more to offer. Enough of hiding or being afraid of my potential.
I love you all, thanks so much for the constant love and support and I'll see you on the flip side.