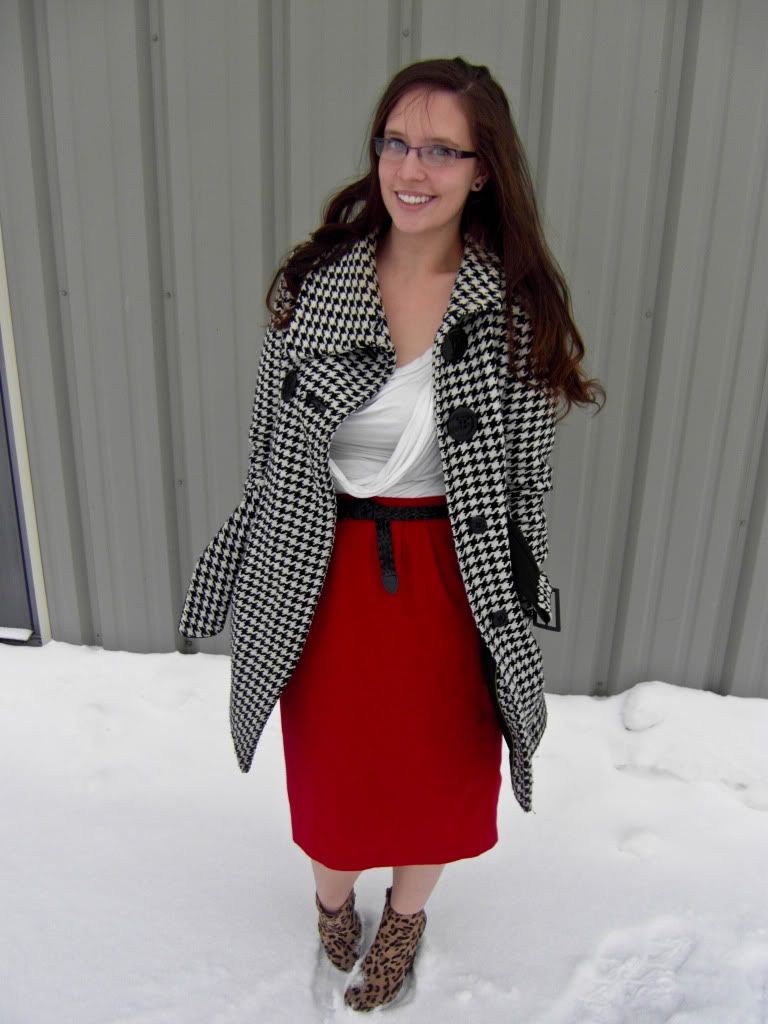 {Outfit Details}
Coat - Soia & Kyo
Drape Top - Envy
Skirt - Thrifted
Booties - Go Jane
Belt - Bluenotes
Earrings - Claire's
[Is this seriously my 150th post?
Did I honestly sit and write like this 150 times?!]
It was surprisingly not too cold this morning, which worked in my favor as not one, not two, but three pairs of my best tights had holes in them. In the foot, in the knee, in the crotch.. I told you I was seriously hard on tights.
This week I am majorly going to check out some of the places you guys suggested to buy good ones!
It took me a few outfits before I decided on this one, and by fluke it turned out to be a fav of mine!
I love the pop of leopard to what could have been another solid outfit although I made the outfit around the shoes. They are still standing strong and comfy!
Okay, a blog update.
I am all done with the look of the new blog. I've checked all the social sites and the names are available, and I made a new e-mail. I will be changing this domain name as to not lose the followers, and will make the old link (this one currently) re-direct for anyone who happens to click it on an old post on another blog. As well, I'll be doing the same for my twitter name, pinterest and facebook.
I think it'll be easier then trying to tell everyone to find me elsewhere under another name.
I've changed the look and name a million times in the last few months, but have decided fully and am very pleased with the results.
I'm working on my first post which I will make live the first week of february. That is my ultimate start goal.
I will explain the change, the name, the look and of course my journey over the last 6 months with this blog and how much I've grown and outgrown the person and ideas I had when I started.

I am confident when I say that I now know who I am as blogger, and what I want to blog about.
And let me give you a little tidbit: you're going to be seeing some heartfelt stories, rants, my life lessons thus far and whole lot more of 'me' and my life.
I don't know why I ever tried to keep it private - I am and always will be the least private person I know.