{Outfit Details}
Blazer

-

Thrifted
Sequin Tank

- Urban Planet
Jeans

- Gap
Boots

- Aldo
Belt

- Urban Planet
Bracelets

- Forever 21

&

Sirens
Watch

- Avon

(Gift)
Earrings

- Forever 21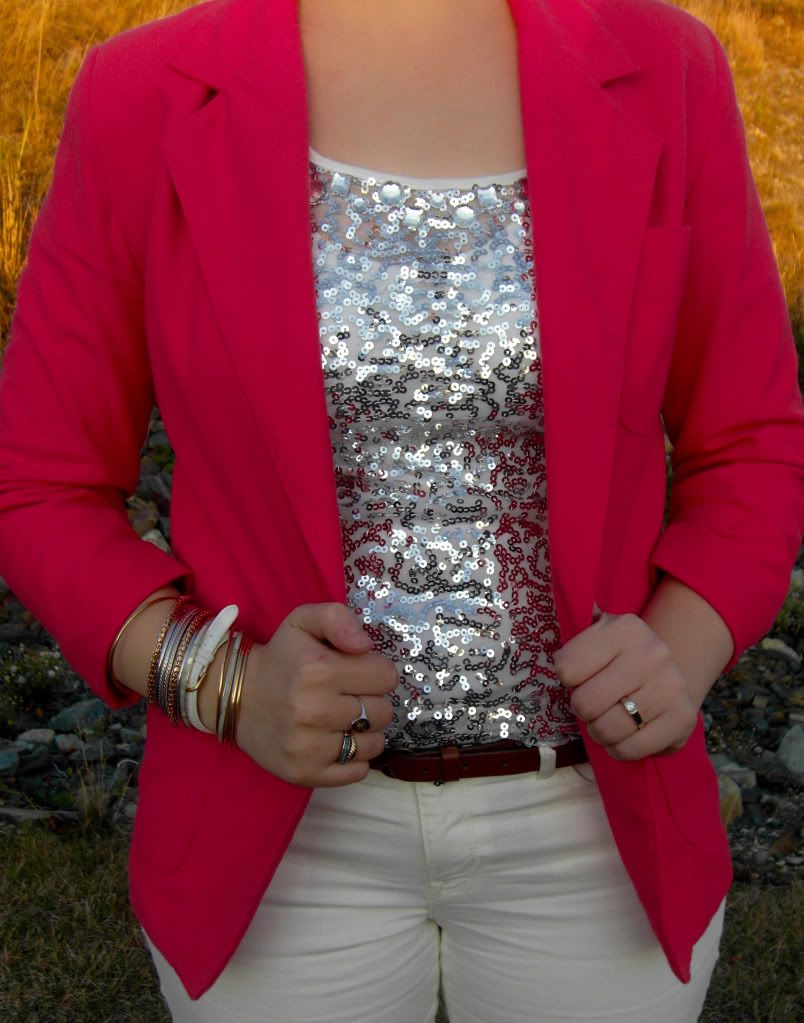 I've always wanted a sequin top! This one is my first...isn't that kind of sad?
I got so many looks with this outfit, and I was totally pleased with myself for putting it together. I am totally in love :) So happy!
Let's talk deals for a sec. I hardly but anything full price...unless is already cheap.
Clearance/sale tags are my best friends.
These pants? NEW at Gap for
$4.97
. I asked the girl if it was correct, and she said 'Yep. It's out of season stuff, and no one wears white after labour day."
I said, "Well then, thank you people who are afraid of that rule. I'll snatch them up."
P
lus another white pair, but flared instead of skinny.
Total white pant count:
3
Then I saw this blazer in the
Petite
section at the thrift store for
$5.99
,
tried it on and though "What's full length on a small lady is 3/4 length for me! Who knows the difference?"
Then Liz and I went shopping tonight, bought
a shirt, a maxi dress, a tunic,
all
$2.99
on then
2 rings,
$1
each then
a necklace
for
$2.50
- all things on clearance. Plus I helped her pick out the most beautiful dress! She looks stunning, and am glad she got out of her comfort zone for her birthday :)
Today was another great day, let's keep em' coming!