Okay.. here we go.
Welcome to My Closet!
This page will take a look into some ways I organize, expand and pick items for my wardrobe.
Take a look! It's marvelous isn't it...
Yeah, someone else's is.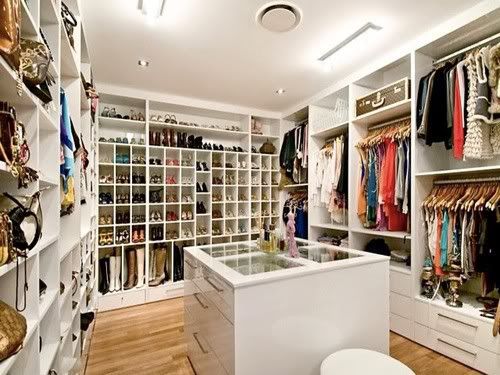 Boy what I wouldn't give to have that room!
[I'll be posting pictures sometimes too for inspirations/ lovely closets I'm coveting.]
Let's get to know my room a little...
It used to be my mom's room, then I had my little girl and we moved into that room. Then we got our own place [J, A and I] then I had Benjamin, and we moved back in to take over the place before mom moved away.
The color is terrible, there are no pictures, and NOTHING matches.
Alas, a mom's life.. her room gets renovated last!
Before we go in is the hallway with, as you can see, baskets and baskets of laundry.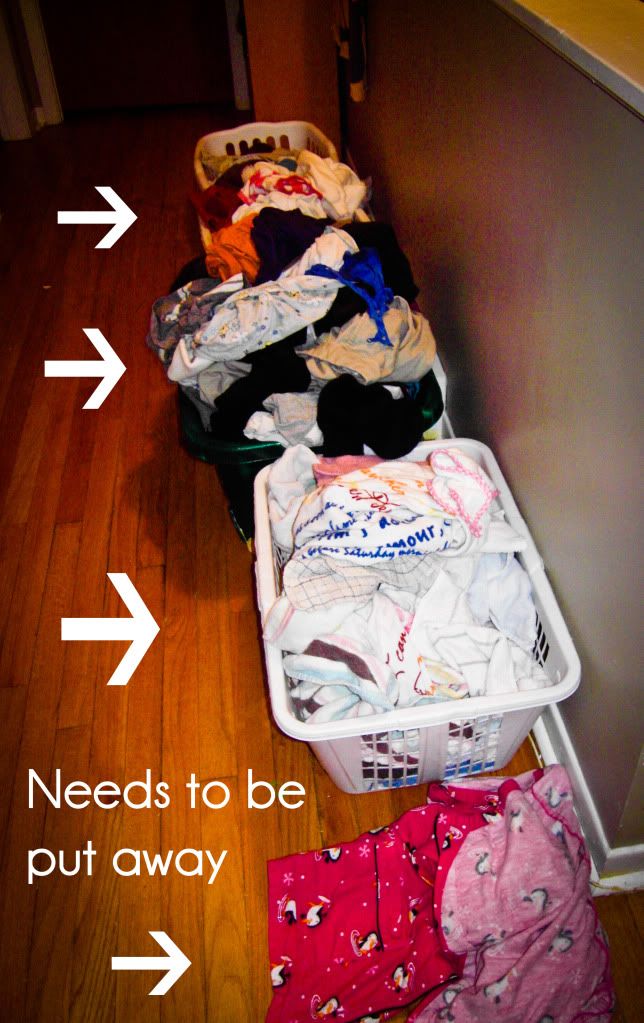 I took before and after photos to give you a jist on how I clean and what it should look like most days. I'm also doing this as a self reminder that I need to be on top on my 'closet game', keeping up with the inventory (that's for another day!), assessing what I have and do not, and to make sure it stays in a clean state.
Honestly.. who has the inspiration to be creative and get dressed in a messy room?
I sure don't yet take a look at my room..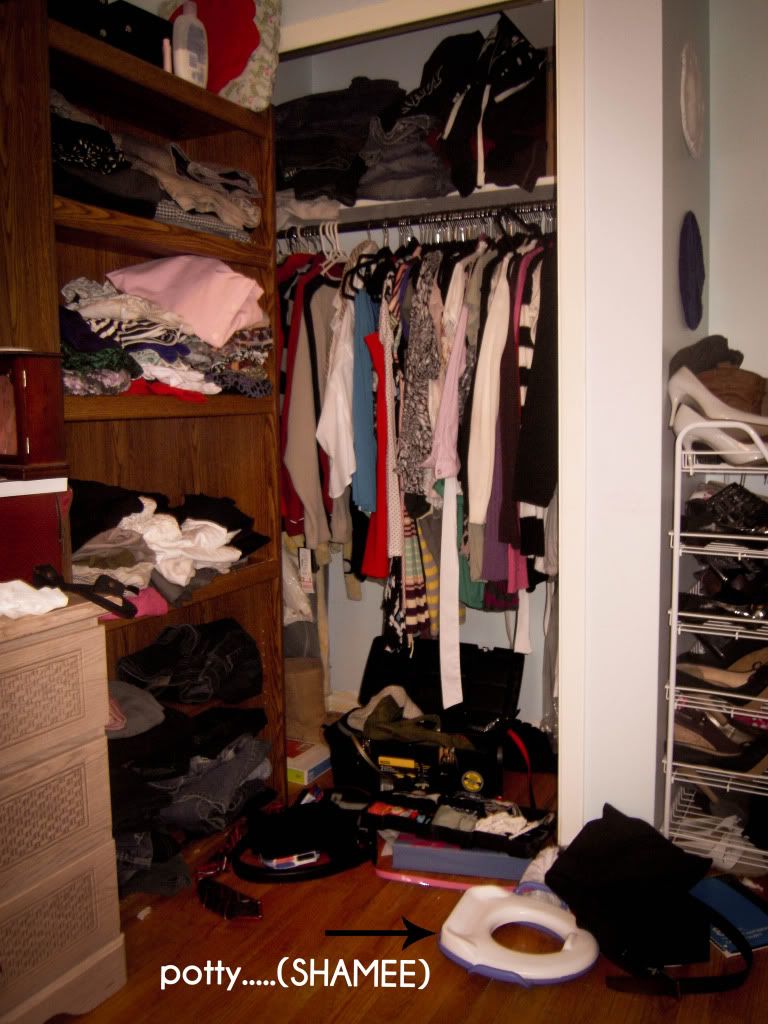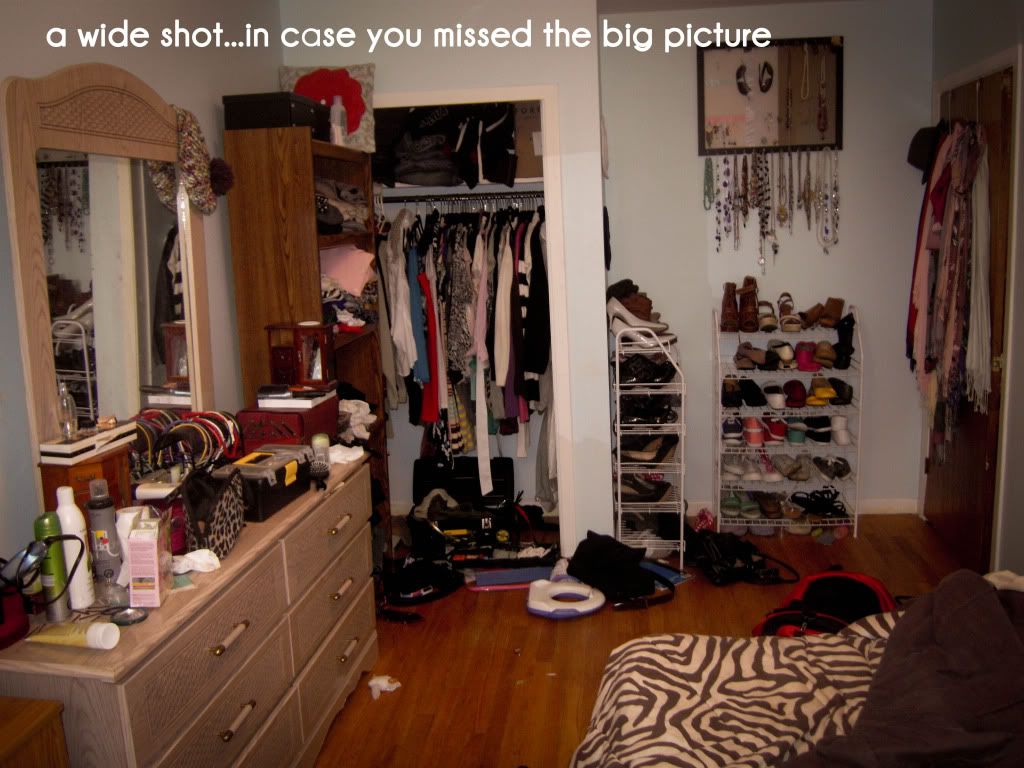 Phew. Maybe putting my laziness and messy life out there wasn't so bad after all? And I must admit, this is not at it's messiest, which I wouldn't DARE photograph.
First thing's first!
The way I tend to clean my room...
I go around and put anything that is garbage in the trash. Stuff like tissues, baby wipes, and facial sponges all have to go.
Then I put ALL my clothes on the bed, so I can't lie down amidst the cleaning and go to sleep on the bed. Dresser clothes go in the dresser, closet thins get hung up.


When that's tackled, I put everything that was on top of the dresser on the bed. I put all items in their respected boxes, or wherever as I take things off. Bitta windex on the mirror, then let's put it all back on!


Of course, I have to arrange it 'just so' when it goes back. The items I don't use regularly either go in the "extras" bin or in the bathroom closet.


I fixed up my shoes, put them all back together in their happy family rack.


All my blazers and coats are downstairs in the hallway closet. Sadly, there isn't enough room upstairs.



I re-arrange all the furniture and sweep/mop to give it a 'new' feel. I LOVE re-arranging things, it's kind of weird, haha.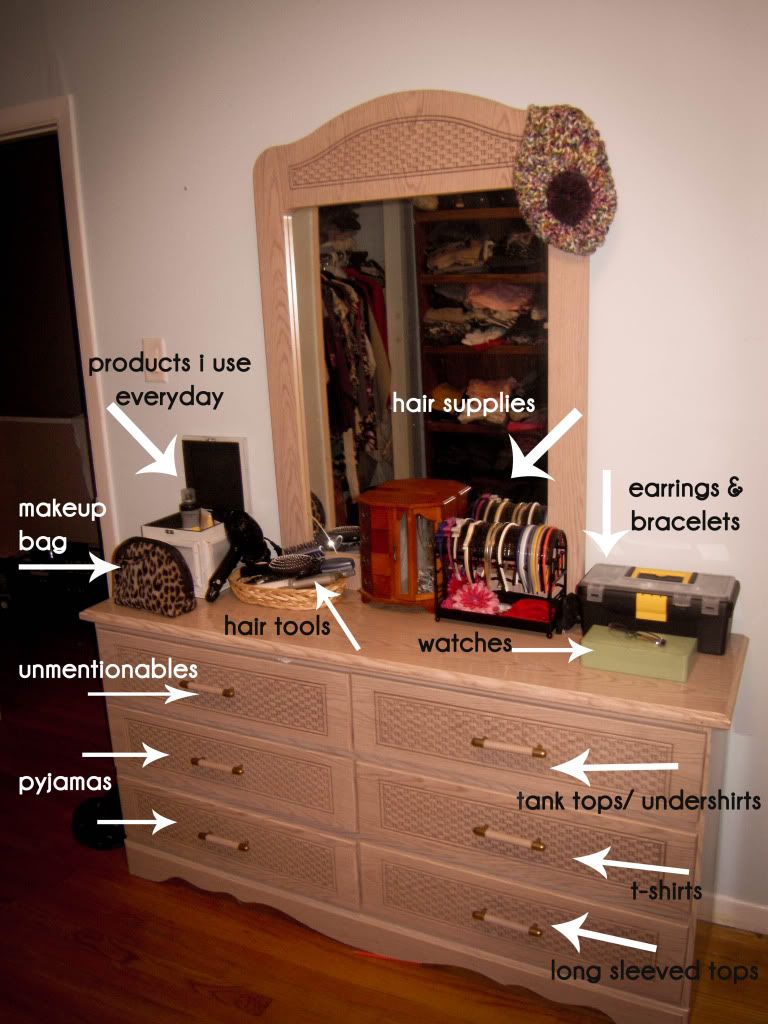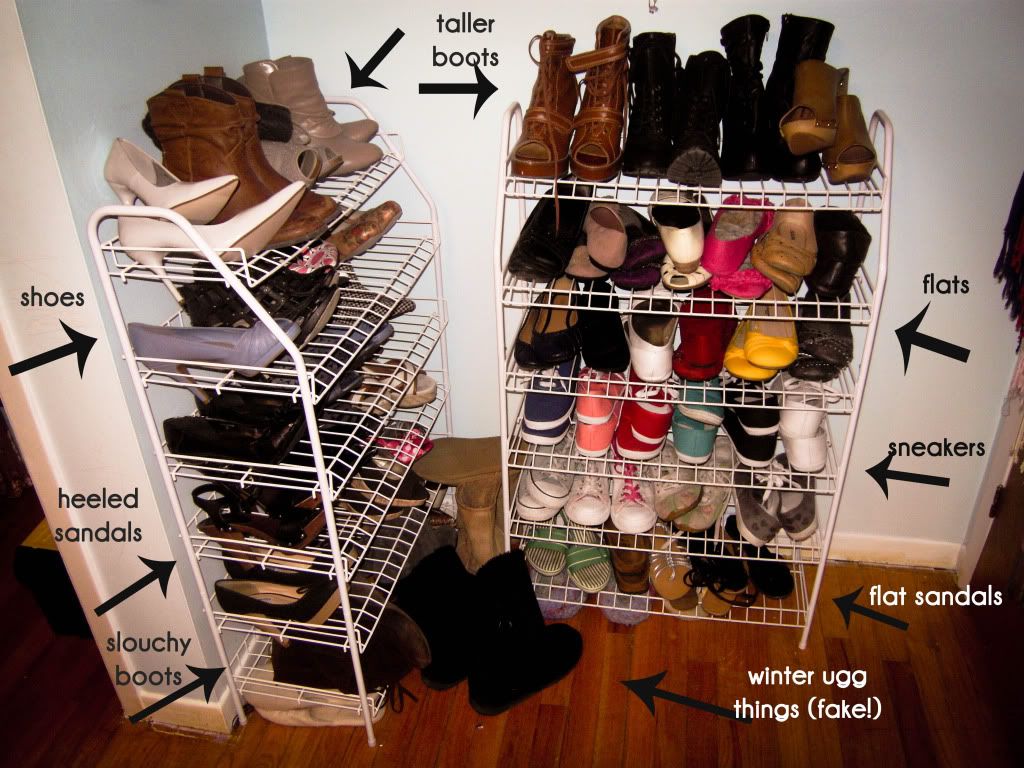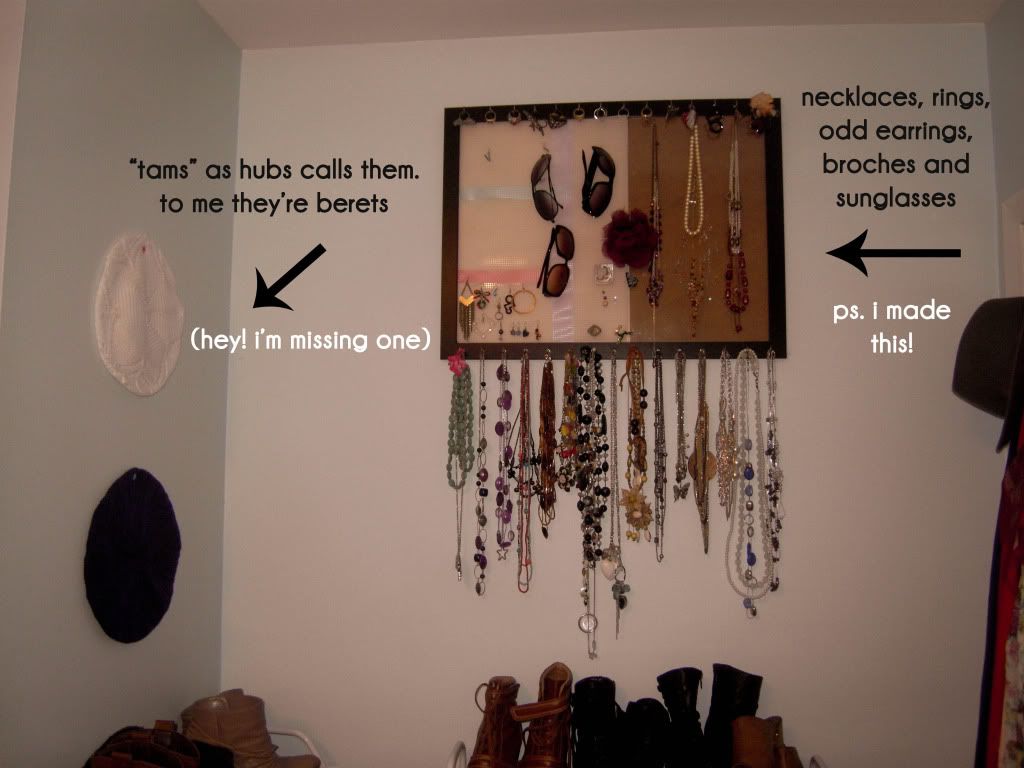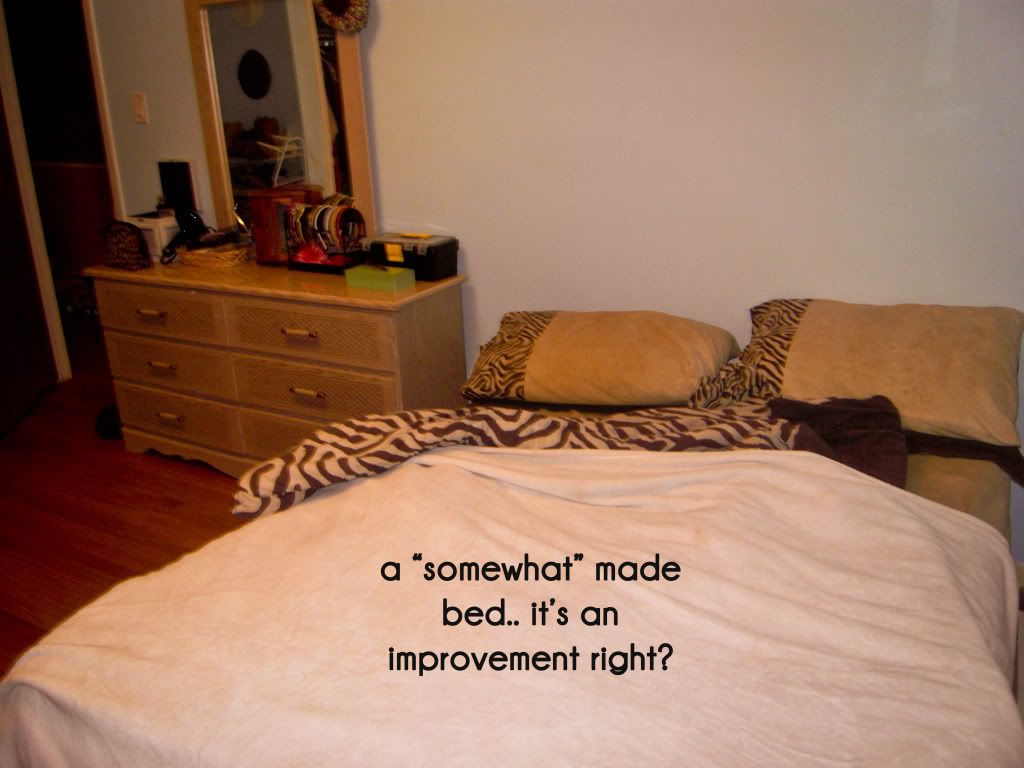 It's not what every girl invisions her closet to be, but some day I'll get it!

Don't get me wrong guys
, I'm VERY thankful and truly blessed to even have such a space, with so much in it!

I'll leave you guys with a few closet pictures I love and things I want in my dream one someday!