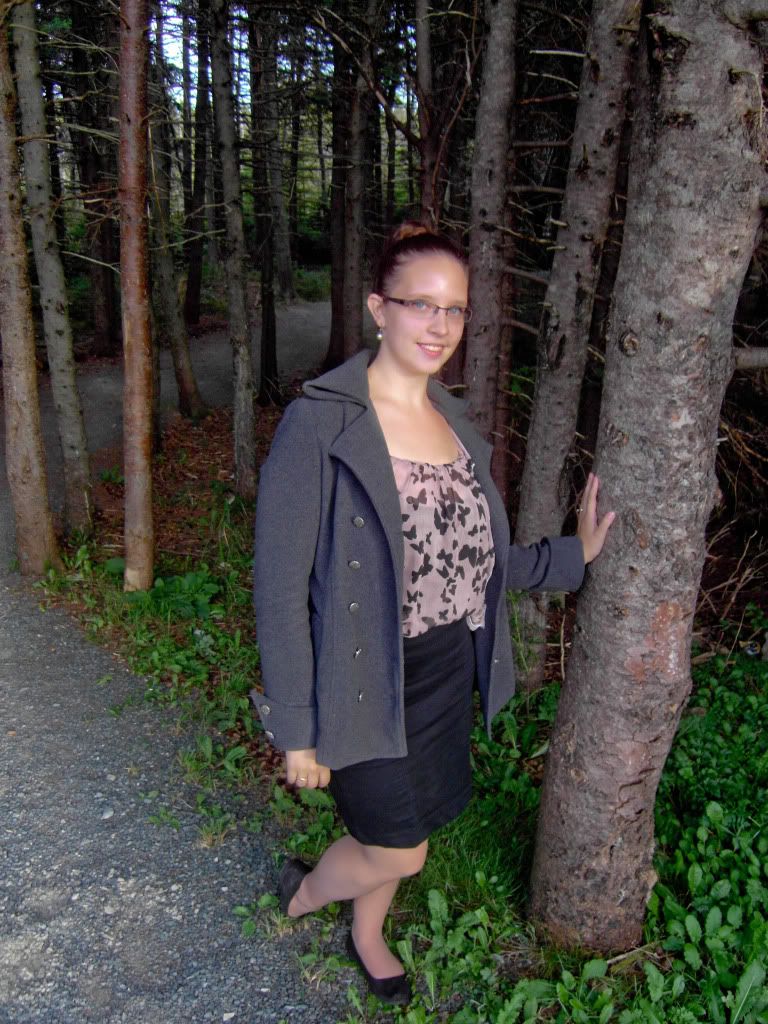 I will tell you all now, I am a super multitasker.
It's something I love doing and am grateful I can do.
So,

excusez-moi si je commence à écrire en français.

I'm doing Lingustics, French and English homework while trying to get my blog pics up and catch up on the posts I've missed from my favorite bloggers. Then I have to make lunch, (I know my priorities, eh?) pick out tomorrows outfit and hopefully sleep in my bed.
(If I fall asleep on the couch, it's game over for trying to wake me).
Plus I have so much Pharmacy committee stuff in my head.
I spent my first day on the job doing a 60+ slide powerpoint presentation for their Awards Ceremony on Thursday. Not a bad task for my first day eh? This is going to be the best job ever. After all that my lovely 'office chic' became 'jumbled mess' and I ended up in the woods for pictures.
[Insert obnoxious laugh at myself]
&
[This is the longer part of today's post, but don't skip! This is gonna be good...]
And without further ado! My answers for my portion of the blogger award I was given :)
'Here are the rules to the blog award:
1. Thank and link back to the person who awarded you
2. Write 7 random things about yourself
3. Spread the love to 15 other bloggers'
Okay! As you all know, my best friend is Courtney from
I Can Be Many Things
. She nominated me and I love her to death for it! She wanted to acknowledge up and coming bloggers, as well as some of her personal favorites. So girl, thanks for the recognition! I love you!
7 RANDOM things about me. .
(this was freakin' hard to do!)
I actually like liver.

-(Yes, cue the 'ewwwww's)


I talk super fast

. -(Most people find it hard to understand me.)

I love things 'warm'. The weather, showers, my coffee, food, even the water when I brush my teeth...

-(What!? They're sensitivee)


I have hyper extensive arms

. -(It creeps people out)


I HATE the fact that my kids names are A then B.

-(I dislike when people name their kids in alphabetical order, or name them all the same letter. It was totally unintentional and unnoticed until after B was born.)

I love to work.

-(A job and in school, that is. Housework? Nah ah. No way.)

I adore the 1930's - 1950's.

-(The clothes, the people, the way they talk, and the music. Everything captivates me in those eras. Oh what I wouldn't give to be Deano

's girl. *sigh* Dean Martin is my ultimate love.)



&& Last but not least...
Spread the Love to 15 Others!
Newfound Love:
Feathers and Freckles
La Vie Petite
Freckles in April
The Lookbook
Girl & Closet
DIY Love:
MADE
Ruffles and Stuff
...love, Maegan
Old Love:
A Longenecker Short Story
Keiko Lynn
From the Block
Orchid Grey
The Daybook
Adored Austin
Kendi Everyday
I could say SO much about every single one of these girls. They are all amazing. Whether my new found loves, or old, they are all going to stay close to me during this blogging experience. Their personalities shine, not only through their styles, but through their writing, and their interaction with their readers. I've received so many nice comments from some, and inspiration from all of them.
There are SO SO many more people I could add to this list, but these are the 15 I'm especially smitten over this week, so check them out!
I love you girls :)
[Phew what a post! Thanks for sticking with my guys. You're all the best]